Education inspires growth, creates prosperity, strengthens community.
With that idea, we launched a new university 25 years ago for Southwest Florida.
Join us in making the next 25 years even more successful than the first. An investment in FGCU is an investment in our students and the future of Southwest Florida's healthcare, businesses, residents, water and environment. On a broader scale, it is also an investment in our planet. We can't turn these ideas into impact alone.
---

Celebrating our silver anniversary
Explore photo galleries, video memories and fascinating moments in our 25-year history.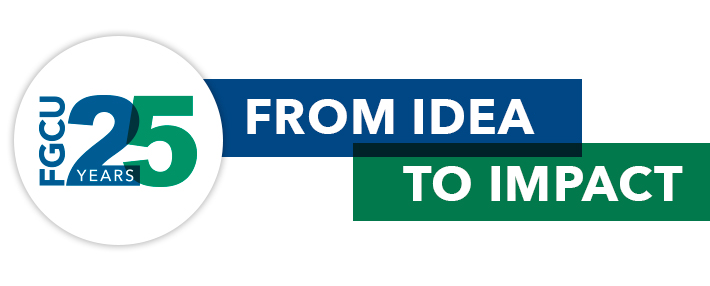 FGCU has created a pipeline of teachers and nurses, social workers and scientists, engineers and entrepreneurs.
For 25 years, our students have served the community, interned at local businesses and started their own. Brought a community together with the arts, athletics and advocacy. Together, we built a stronger Southwest Florida.
Make your impact
Scholarships continue to be an essential contributor to student success. Join us, and leave a legacy and as we begin our journey into the next 25 years.
Ways to give
Student success is our first priority, and we must support this goal with scholarships, academic excellence, programs, eminent scholars, athletics and facilities that inspire and empower students to reach their potential.
From Idea to Impact: FGCU's comprehensive campaign
Get a sneak peek of FGCU's look ahead as we plot our course for our next 25 years.
We are celebrating 25 years of ideas that have created opportunities for students and the community that did not exist just a short time ago. We have built a university, a community and a legacy.
In just the past year:
Enrollment grew and, for the first time ever, approached 16,000 students.
The Daveler & Kauanui School of Entrepreneurship was named on of the state's top entrepreneurship programs.
We ranked #7 among Most Innovative Schools by U.S. News & World Report.
The Water School became FGCU's first "Program of Distinction," focused on ways to solve water problems for the region, state and beyond.
The Community Counseling Center opened its doors when access to mental health was critically needed.
WGCU FM has been ranked at #2 in the market, and WGCU TV is among the top PBS stations in the country.
FGCU celebrates 25 years
As Southwest Florida's hub for arts and athletics, our campus is constantly abuzz with live performances, exhibitions and events that showcase noteworthy artists and musicians as well as our own stars in the making.
Together we can turn more ideas into impact
Most of our most generous support has come from individuals who are committed to the principles of higher education and who believe in FGCU's ability to innovate and deliver value to the community. If that describes you, let's have a conversation about how you can help shape the next 25 years at FGCU.
Contact Cindy Learned at 239-745-7485 or clearned@fgcu.edu